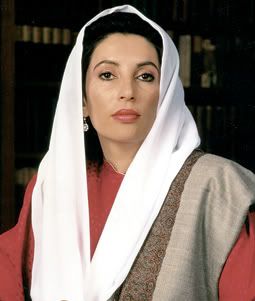 We've got the wrong allies to fight the wrong war. Musharraf must go.
The Taliban must be defeated in Pakistan this year or the country risks falling under the sway of extremists much as Afghanistan did before September 11, 2001, former Prime Minister Benazir Bhutto said.

Bhutto, who hopes to return from exile and run for prime minister again in elections this year, also warned that the judicial crisis gripping Pakistan could spin out of control and underscores the importance of restoring civilian rule.

''They (the Taliban) have actually established a mini-state in the tribal areas of Pakistan. My fear is that if these forces are not stopped in 2007, they are going to try to take on the state of Pakistan itself,'' Bhutto said in an interview on Friday. ''In my view it is a genuine threat,'' she said.
Bhutto is the leader of the Pakistan People's Party, a secular party that leans toward government interventionism in economics and social justice. She was ousted in 1996 under questionable circumstances after her husband, Asif Ali Zardari, was accused of using his position as husband of the Prime Minister for economic gain. Musharraf took power in a coup in 1999, overthrowing Prime Minister Muhammad Rafiq Tarar, and becoming both head of government and head of state as President.
''General Musharraf does say that he wants to go after terrorists, that he wants to go after the forces that support the Taliban, but he's unable to do it,'' Bhutto said from her apartment on the Upper East Side of Manhattan, where she lives with her ailing husband when she's not working for her return to Pakistani politics from Dubai.

Musharraf also has been exploiting the presence of the extreme Islamist movement as a rationale for maintaining his military rule beyond general elections due before the end of 2007, she said.