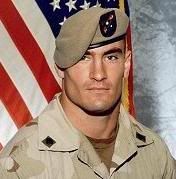 Lt. Gen. Stanley McChrystal sent a memo to his superiors just seven days after the death of Army Ranger Cpl. Pat Tillman warning that President Bush and other political leaders that the former Arizoma Cardinals safety was NOT killed in an ambush, but by friendly fire. Among other things in the memo to Gen. John Abizaid, he wrote:
I felt that it was essential that you received this information as soon as we detected it in order to preclude any unknowing statements by our country's leaders which might cause public embarrassment if the circumstances of Cpl. Tillman's death become public.
The
Tillman family believes
that their son's death was used by the Army and the Bush administration to stem the growing tide of anti-war sentiment in the United States at a time when public opinion was turning more and more against the war. The circumstances of Tillman's death are unusual, and the family believes they have not been fully investigated.
Some believe
he might have been targeted.