It all started some months ago when someone told me
IN THE DARK
was a permanent link on a North Korean Communist blog. I didn't know what to make of it at first, so I started reading the blog every once in a while to try to get a sense of what was going on there.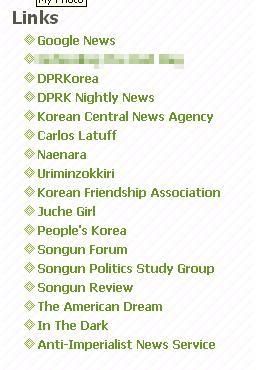 It soon became apparent to me that this was an attempt, feeble to be sure, at satire. My guess is that it is an American blog run by a young-ish, dreadfully immature, and not very humorous right-winger, perhaps Anglo-American, perhaps Asian-American, frightfully privileged and appropriately coddled and pampered. GOP all the way.
After a while I began asking, in the comment section (for there is no e-mail address on the blogger's profile page), for the link to
IN THE DARK
to be removed. It is, in my estimation, a cheap and libelous attack on free speech to be linked to Communist websites because one criticizes the current administration.
Well, as a result of my requests another blogger (this one probably Asian, possibly South Korean, and certainly blogging from Auckland, New Zealand) who comments frequently on the first blog posted this: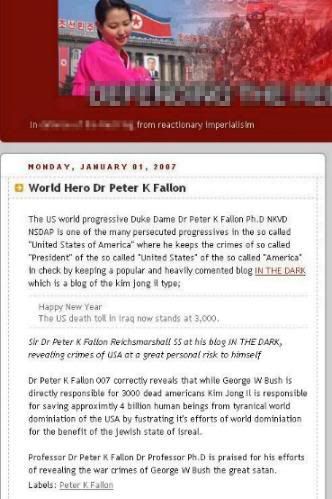 This is all very cheap and really stupid. As I have mentioned in some of my comments, these bloggers are a waste of precious natural resources (like water and oxygen) that real, productive, thinking human beings could be using. Like George W. Bush, they are an example of the evil of banality. As Batman said, "If only their energies could be used for good instead of stupidity." Well, he said something like that.
I hope they remove the link to
IN THE DARK
, but if they don't, okay. Their blogs seem to be a revolving door of the same dozen or so adolescent imbeciles, all reading and commenting on one anothers' posts. I'm sure they have a readership in the double digits -- and IQs to match.
Meanwhile, I'll keep visiting them, asking them to remove the link to
IN THE DARK
, and subtly reminding them to make sure they stay on Daddy's good side so they can have a job someday.