An Update on the
"
So-called War on Terror
"
TM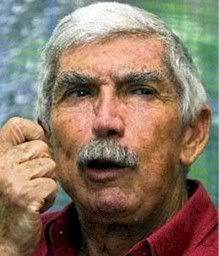 Terrorism suspect and former CIA operative
Luis Posada Carriles
, linked by declassified CIA documents to the 1976 bombing of a Cuban airliner that killed 76 people, is set to be released pending a hearing on immigration fraud charges. Read all about him at the above link. Read the declassified CIA documents at the above link. Read about the people he killed -- including high school students -- at the above link.

Read about how his accomplice and former CIA colleague, Orlando Bosch, was pardoned for his many crimes by the first President Bush, all at the above link. Read through it all in the twenty posts I've made in the last two years.

And then I'd love to hear from you to explain to me why you don't think that the so-called "war on terror" is a complete and utter sham.