An Update on the
"
So-called War on Terror
"
TM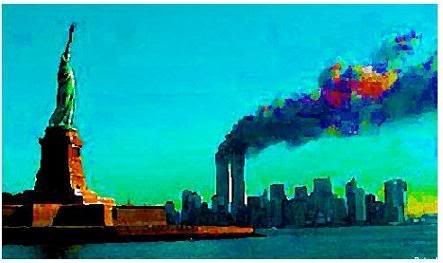 French newspaper Le Monde adds more fuel to the fire by publishing a story saying that they warned the CIA about al Qa'ida intentions to hijack airplanes
nine months
before the attacks of September 11, 2001.
The newspaper says it has obtained 328 pages of classified documents that show foreign agents infiltrated al-Qaeda's network.

It produced nine reports between September 2000 and August 2001, including the January 2001 document called 'Plan to hijack an aircraft by Islamic radicals'.
That's reminiscent of the
August 6, 2001 Presidential Daily Briefing
titled "
Bin Laden Determined to Strike in US
." Good Lord, how many dots do you have to draw in a straight line before it occurs to George W. Bush's administration
to connect them???
Le Monde said the January 2001 report was handed over to a CIA operative in Paris, but that no mention of it was made in the official US September 11 Commission which produced its findings in July 2004.
Why was that? Don't we deserve an explanation?
Le Monde said the documents also show the French believed al-Qaeda leader Osama bin Laden was still receiving help from family members and senior officials in Saudi Arabia in advance of the 11 September attacks.
Yes. Like Pakistan's dictator
Gen. Pervez Musharraf
, the Saudis are our allies.
God help us.