An Update on
"
The Good Guys
"TM
,
America's Asian Allies in the (so-called) "War on Terror"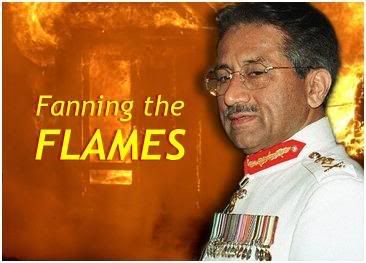 After blocking the transmissions of the three major television stations in Pakistan, unelected coup-leader and dictator
Gen. Pervez Musharraf
has had hundreds of political activists of opposition parties thrown in jail in Punjab province.
Siddiqul Farooq, a spokesman for the Pakistan Muslim League of former prime minister Sharif Nawaz said that authorities have been raiding homes of activists since last night and have arrested many people. He said that he are trying to ascertain how many exactly, but information available points out that it could be nearly a thousand.

The arrests were aimed at preventing party workers from turning out for the suspended Chief Justice Iftikhar Chaudhary's planned June 16 visit to Faisalabad, Farooq said adding "The Government is feeling threatened by the public response to the Chief Justice."
Are you following this? The arrests were not at some protest that turned violent. The arrests took place before any protest or rally even began. These are the "good guys," shoulder-to-shoulder with the United States of America, standing up for democracy and freedom.
What has happened to us?